Please note: Sometimes before performing the OBDII Relearn the ECU may need to be unlocked in order for the OBDII procedure to be succesful. This procedure can be carried out with the Hamaton H46, ATEQ VT46, Hamaton H47, ATEQ VT56 SE and the ATEQ VT56.Finally,when performing an OBDII reset, if the vehicle is equipped with a MAIN/2nd selection switch, ensure the switch is in the up position (system in MAIN MODE).
Aftermarket sensors are known to not show pressure by location on this vehicle.

Make:

Lexus

Model:

LS

(Built after June 2012)

Model Code:

250L

Date of Manufacture:

May 2012 - January 2018

OE Sensor Manufacturer:

PACIFIC

OE Sensor Number:

4260742020
The following sensors are all compatible with: Lexus LS 2012-2018.
Service parts for the Pacific CCT1 Clamp-In style sensor: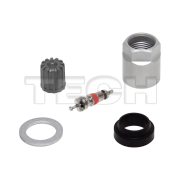 72-20-525
Box Of 10 Service Kits for Pacific LFB1 / LFC1
A box of 10 service kits, with each including: 1 Nut, 1 Rubber Grommet, 1 Metal Washer, 1 Valve Cap and 1 Valve Core. This servi... (more)
Barcode:
5055563003956
Comparative Part Numbers:
6-116T, 21030, 20031, 1110K, 5628533, 591307, 92-0135
You must be logged in to view relearn procedures.